THE SOCIETY OF URBAN BIRDERS
A hypothetical organization promoting birding in urban settings. Historically presented as an activity of academics and the upper class, The Society of Urban Birders aims to make birding more accessible to a diverse population in city environments. It would not only spread knowledge and awareness about the wide range of birds in metropolitan areas, but also give people an opportunity to get outside and appreciate nature, even in the middle of a city.
Role — Creative Director, Designer, Illustrator
Advisor — Self-Directed


December 2021
MISH MASH
A zine created by myself & Natalia Oledzka, to allow for creative unity and collaboration across disciplines in Sam Fox. Our first issue's theme was Flow. Natalia and I gave feedback to each of our contributors throughout their creative process and hand-bound the 50 copies of the inagural issue for distribution. I created one of the 5 sections in this issue, titled How to Achieve the Perfect Bro Flow. Each hairstyle came from style articles giving detailed descriptions of the variations and were portrayed on pet rocks.
Role — Creative Director, Designer
Advisor — Self-Directed with
Natalia Oledzka
October 2019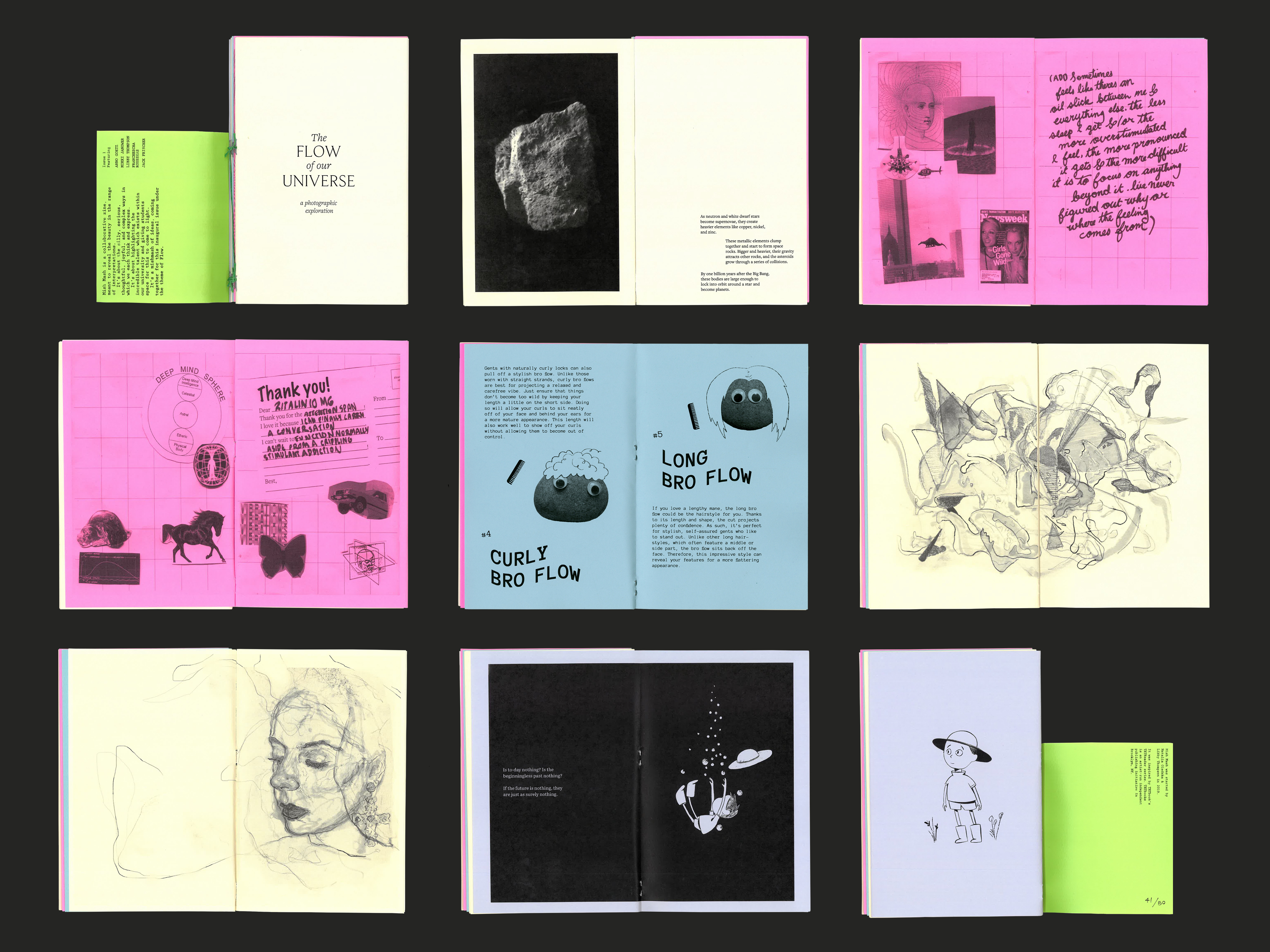 WHO'S DOING THE DISHES?
A visual exploration of Francesca Donner's article
Who's Doing the Dishes?
, published as a part of the New York Times series
In Her Words: 7 Issues, 7 Days
. This article focuses on the gender gap in unpaid labor within the home and how COVID-19 has had an effect on this global disparity.
Role — Designer
Advisor — Self-Directed


August 2020
AVOIDING SUBTLE SEXISM
A booklet designed to allow professors and mentors easy access to information aiding them in avoiding unconscious gender bias in their reference letters and recommendations. The booklet outlines common ways in which reference letters can favor male applicants over female applicants, through things like length and wording, and detailing how to avoid reinforcing unfounded gender stereotypes.
The research behind this booklet comes from "Exploring the Color of Glass: Letters of Recommendation for Female and Male Faculty", a research summary published in 2003 by Frances Trix and Carolyn Psenka.
Role — Designer
Advisor — Audra Hubbell


November 2019
GRANDMA GATEWOOD TAKES A HIKE
My senior illustration project on Emma Gatewood, the first woman to hike the Appalachian Trail in 1955 at the age of 65. Fondly known as "Grandma Gatewood," she inspired many with her love of the outdoors and worked to bring people into the hiking community and raise awareness to trail restoration. This book focuses on her first thru-hike of the Appalachian Trail as well as some of the reasons behind why she hiked.
Role — Illustrator, Designer
Advisors — John Hendrix & Madeline Valentine
view full book pdf
︎︎︎
May 2020