DOLLAR STORE TOWN
A book covering the Futian Market, located in Yiwu, China, from which a vast amount of the items found in dollar stores worldwide are purchased and distributed. The text covers the impact that the market, which has experienced fast paced growth and an increase in demand, has had on the community and the local environment.
The text is a transcription of episode 237 of 99% Invisible, titled "Dollar Store Town: Inside the World's Biggest Wholesale Market."
Shown on this page and the next are a selection of spreads from the book.
Role — Designer
Advisor — Self-Directed


February 2023
SHAREBITE
A selection of work created for Sharebite as their in-house brand designer. Sharebite is a food ordering platform built for the modern workforce, with a mission for creating community at its core.
I came into Sharebite to build upon their new rebrand, created by SF agency Landscape, and to implement it in all facets of the company. Expanding on the work Landscape did, I worked with teams across the company to create signage, pitch decks, social imagery, trade show materials, and a multitude of other collateral.
View work via password protected link below (password available upon request) ︎︎︎
link here
Role — Creative Director, Designer
Advisor — Ben Neal (Head of Design)


March 2022—Present
THE SOCIETY OF URBAN BIRDERS
A hypothetical organization promoting birding in urban settings. Historically presented as an activity of academics and the upper class, The Society of Urban Birders aims to make birding more accessible to a diverse population in city environments. It would spread knowledge about the wide range of birds in metropolitan areas, and give people an opportunity to get outside and appreciate nature, even in the middle of a city.
Role — Creative Director, Designer, Illustrator
Advisor — Self-Directed


December 2021
MISH MASH
A zine created with Natalia Oledzka, to allow for creative unity and collaboration across disciplines in Sam Fox. Our first issue's theme was Flow. Natalia and I gave feedback to each of our contributors throughout their creative process and hand-bound the 50 copies of the inagural issue for distribution.
I created one of the 5 sections in this issue, titled How to Achieve the Perfect Bro Flow. Each hairstyle came from style articles giving detailed descriptions of the variations and were portrayed on pet rocks.
Role — Creative Director, Designer
Advisor — Co-Directed with
Natalia Oledzka
October 2019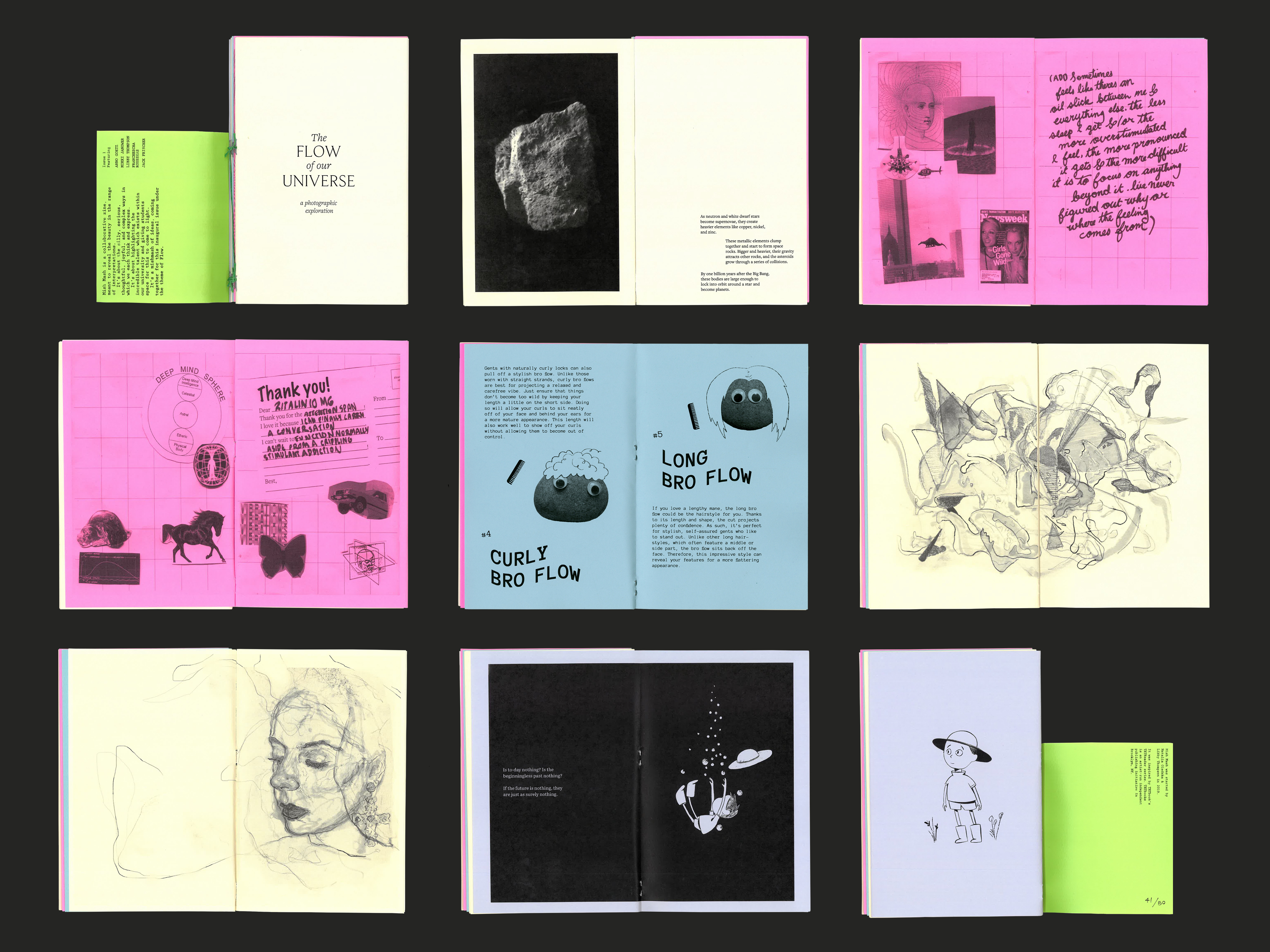 APPALACHIAN TRAIL BUFFS
An illustrated map of the Appalachian Trail, a 2,200 mile footpath going from Georgia to Maine, featured on a limited edition BUFF® created in collaboration with The Trek. The BUFF® features notable landmarks, trail towns, and key points along the trail that are fundamental to the thousands who attempt this thru-hike every year.
For each BUFF® sold, $1 was donated to the non-profits overseeing the Appalachian Trail (ATC), Pacific Crest Trail (PCTA), and the Continental Divide Trail (CDTC). It was sold exclusively on
The Trek
's website and sold out shortly after it was released (it has since been reprinted and is available
here
).
Role — Creative Director, Illustrator
Advisor — The Trek
May 2020